Insulation & Uses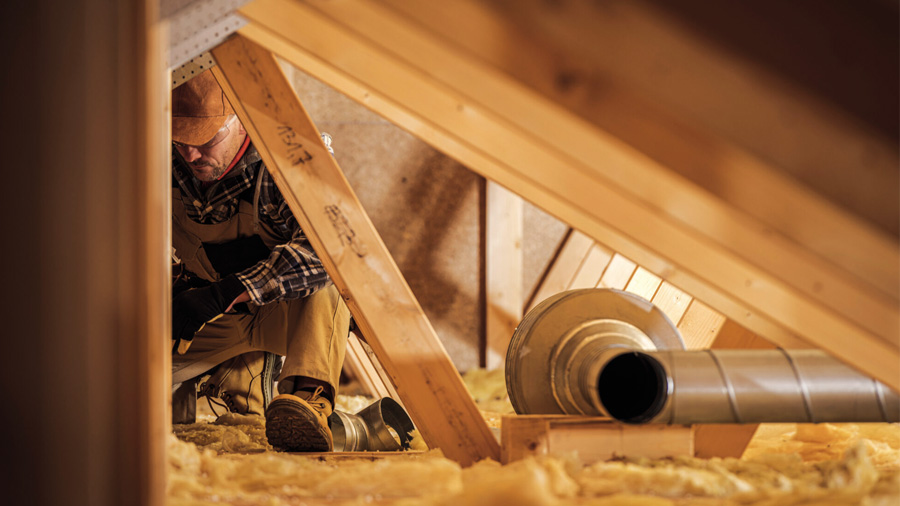 Thermal insulation systems the most common in unused roof spaces and converted attics are now mainstream
The feedback from experience and experimentation over many years through Technical Appraisals is making it possible for thermal insulation systems in unused roof spaces (with loose-fill mineral wool and cellulose) and converted attics (with mineral wool in panels or rolls) to become commonplace. As a result, these types of products are now subject to the NF DTU 45.10 and 45.11 building codes, and ACERMI certification guarantees the intrinsic characteristics of the insulation materials used and compliance with the standards in both codes.
NF DTU 45.10 (published in July 2020) "Insulation of attics by panels or rolls of manufactured mineral wool" applies to thermal insulation on the inside of unused roof spaces and converted attics in new and existing residential and nonresidential buildings. It requires the installation company to have good knowledge of the site before performing the work—climate zone, presence of smoke ducts, downlights, quality of the frame, type of ceiling—and therefore implies prior inspection of the supporting structure.
NF DTU 45.11 (published in March 2020) "Insulation of unused roof spaces with mineral wool and cellulose wadding from paper" constitutes the standard that governs the best practices for thermal and acoustic insulation works inside the floors of unused roof spaces and nonconvertible attics.
Installation takes place by blowing using pneumatic machines. This building code only covers the installation of loose-fill insulation materials manufactured and packaged in a plant and applies exclusively to premises with low or medium humidity. It does not cover the insulation of floors ventilated on the underside by outside air, positive pressure floors and manual spreading. It specifies the materials to use and the precautions to take during installation.
A solution widely used in both new and renovated buildings: pitched roofs for converted attics using roll or panel products
The pitched roof is insulated by inserting thermal insulation between and/or under the roof structure (rafters, trusses, purlins, etc.). Insulation with two cross-layers between and under the roof structure reduces the impact of the integrated thermal bridges. In new buildings and those under renovation, NF DTU 45.10 specifies whether there is need for a vapor barrier, depending on the type of configuration (roofs, roof underlayments).
Beyond NF DTU 45.10, it is possible to improve the thermal performance and airtightness of pitched roofs by installing an unventilated high-permeability vapor membrane in the underside, on the exterior side, by a roofer (in new or heavily renovated structures with complete removal of roof elements), which involves, in this configuration, the implementation of a continuous vapor barrier on the interior side.
This construction technique is described in the NF DTU 45.10, NF DTU 25.41, NF DTU 31.2 and DTU série 40 French standards (roofs and flexible air barriers) and in the Technical Assessments and Technical Application Documents for nontraditional insulation materials. ACERMI certification is evidence of conformity of the insulation product with the requirements set out in the standards and application documents listed above.
The insulation products covered do not contribute to the mechanical stability of the structure. However, the insulation material must be able to withstand the mechanical stress conditions imposed during installation, and especially the traction loads under its own weight. In addition, the dimension and weight variations of the product in response to temperature and humidity must not generate significant mechanical stresses on other adjacent roof components (roof underlayments, structural framework or internal finishing). They must not limit the width of the external ventilated air space.
Once the insulation product has been selected, all that remains is to follow the recommendations set out in NF DTU 45.10, DTU 25.41 or Technical Assessments or Technical Application Documents to achieve longterm, high-performance insulation.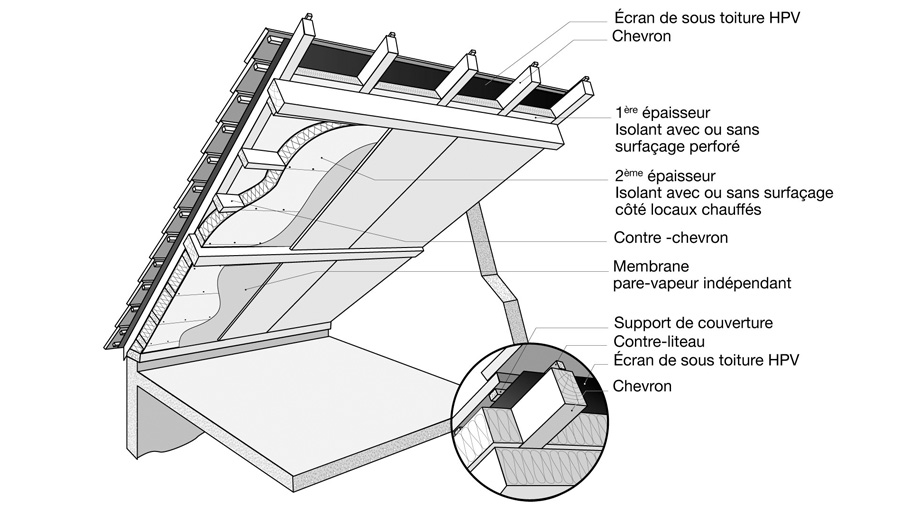 New professional rules for independent beneath weatherproofing systems in ballasted roofs and inverted roof insulation for flat roofs
Since July 2021, inverted roof insulation panels for flat roofs and independent beneath weatherproofing systems in ballasted roofs are considered traditional techniques. They no longer require Technical Appraisals.
The Chambre syndicale française de l'étanchéité (French weatherproofing association) (CSFE) has therefore drafted the professional rules for these applications.
Each benefits from ACERMI certification for the defined characteristics, which guarantees users the performance and suitability of insulation products in the works in which they are installed.
Their ACERMI certification reference documents are available at the following address: ACERMI / Reference documents / ACERMI guidelines.
---